FTW's Small Business Saturday Local Makers Pop-Up Bazaar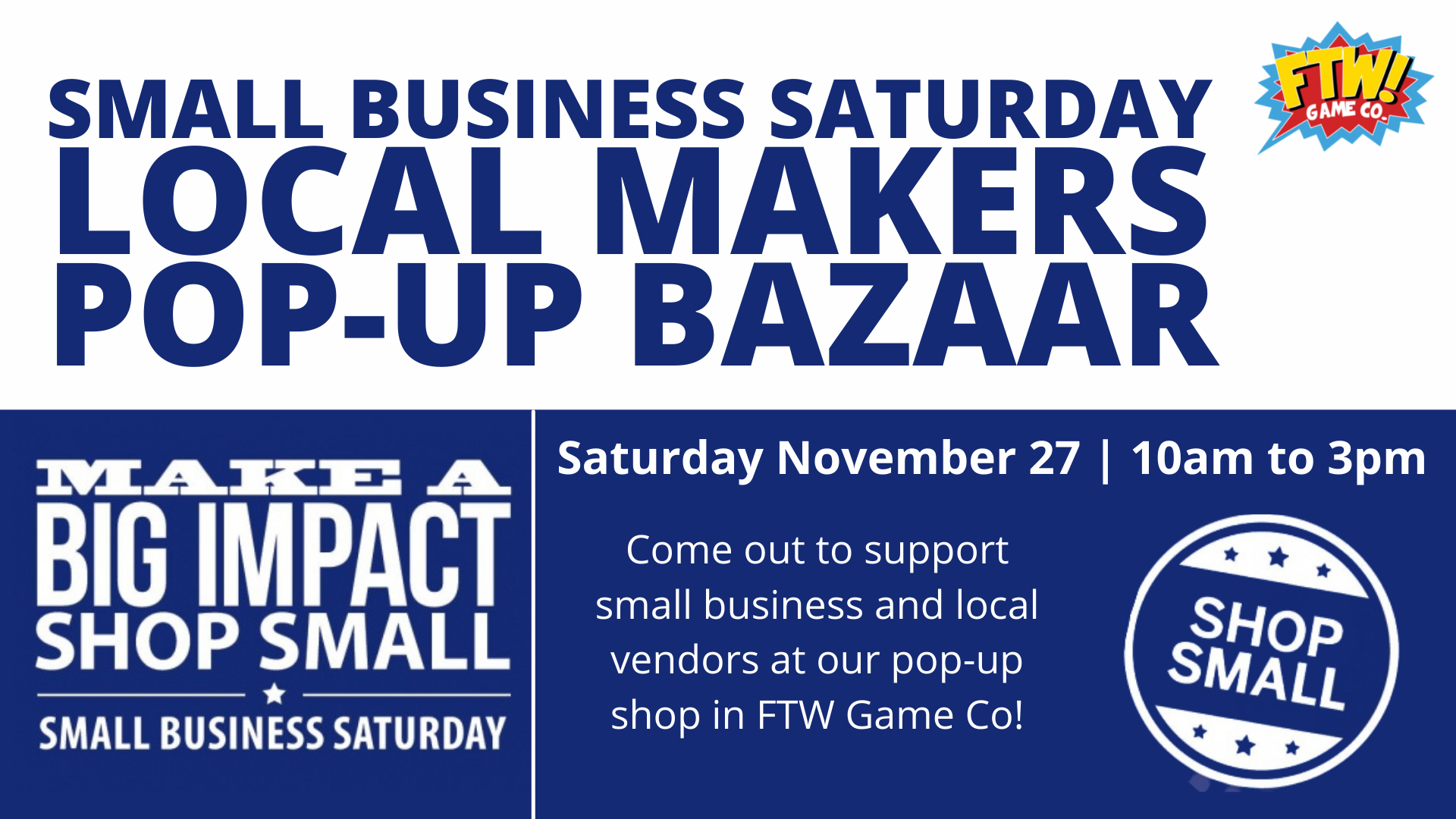 Wondering what to get your loved ones for Christmas? Have you been brainstorming unique gift ideas? This is the perfect opportunity to find a one-of-a-kind gift for your loved one—while supporting a small local business!
Join us on Small Business Saturday, November 27, from 10am to 3pm for our Local Makers Pop-Up Bazaar!
We will have local vendors set up inside both FTW Game Co. locations selling their locally crafted & handmade items!
Are you a local artist or maker? We'd love to have you!
Please submit a Vendor Application by Monday, November 8th to be considered for this event!
Vendor FAQ
What types of makers/artists/items are you looking for? All makers are welcome to apply, but we are looking for local artists and makers that specialize in pop-culture themed items! Examples would be a comic book style artist or handmade items that are themed around video games, comics, D&D, Magic, or general nerd culture: items that you may find at a comic convention!
When is the deadline to submit the Vendor Application? The application deadline is Monday, November 8, 2021.
When will I be notified if I was selected to participate in this event? All applicants will be notified no later than Wednesday, November 10, 2021.
What is the cost to set up at the event? The cost of the event is $5 per vendor.
How much space will I have to set up? Depending on the number of vendors selected, you will get a minimum of 4ft. of linear table space. However, our goal is to provide each vendor with one table each.
What time is set up for the event? Set up will be at 9 AM, on Saturday, November 27, 2021.
How will you help promote my business before the event? Our goal is to promote each vendor selected on our social media by posting a bio about your business, along with a few pictures and link to your online store and/or social media.